Kathy Bailey – Friday Night Guest – March 4, 2022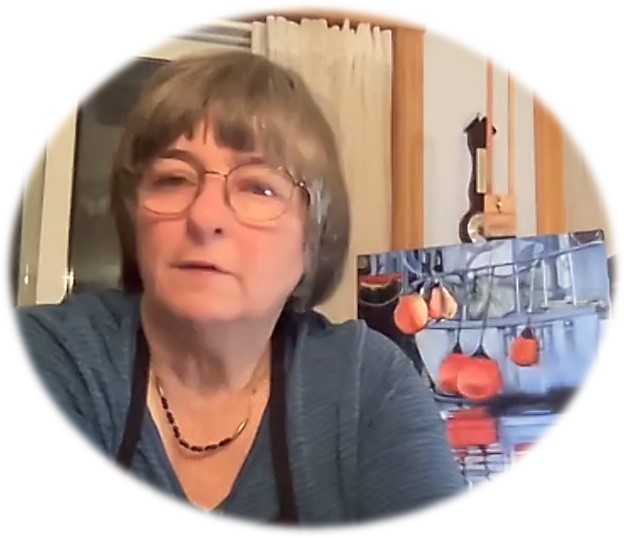 (Submitted by Mary Intven Wallace)
Kathy Bailey joined us on ZOOM from her new home in Murray River, PEI. She has recently moved there from Ontario, where she has been painting for more than 40 years. She is known for her large, lovely landscape paintings which are inspired by the luminous quality of light in the natural world, often with a focus on water. She is a graduate in Art Education from the University of Toronto and Creative Arts at Sheridan College. Kathy is an OSA member and has exhibited nationally and internationally and serves as founding president of the Canadian Glaze Oil Society.
In her presentation, she spoke about how she first fell in love with traditional oil painting as an 18-year-old art student at the University of Guelph. These 500-year-old oil glaze methods of indirect painting were initially established in the Renaissance by the Old Masters. To this day, Kathy remains passionate about the oil glazing techniques she uses to create the rich luminous glow characteristic of her paintings.
While showing slides of her artwork, Kathy spoke fervently about her love of this precious natural world, and the urgent need of our stewardship. Describing how she needs to feel connected to the skies, water, and land of the places she paints, she shared the Gull River series inspired by her childhood family cottage in Minden, Ontario. Next, we enjoyed her eloquent descriptions of special places and times as painted at Old Pelican Harbour, Newfoundland.
During her glazing demonstration we learned about the many layers of her painting process: the Imprimatura priming, the burnt umber Grisaille value underpainting, the Velatura using scumbling techniques, the several glaze layers, and finally the last touches for a rich and luminous oil painting. Kathy laid out the materials on her palette: Gamblin FastMatte Titanium White Alkyd Oil Color, Ultramarine Blue, Transparent Yellow, Quinacridone Red, and Gamblin Solvent-Free Fluid. All are nontoxic. Using a stiff bristle bright paintbrush, Kathy showed us how she added another layer to one of her paintings: over dry coloured underpainting, she scumbled a glaze of translucent white paint to scatter the light and then she brushed on transparent primaries for bringing out a soft luminosity. She described how this technique achieves the complex colour in her work.
Finally, we heard about Kathy's interest in sound archival art practice. She treats her canvases with Gamblin PVA Sizing, Golden Acrylic gesso ground and then stretches them on cradled panel to ensure the longevity of her oil paintings. From her newly built studio in PEI, Kathy will continue to paint, exhibit, and teach. She is launching her own line of top performing oil painting supplies in her new business, Professional Art Products.
Thanks to Kathy for sharing her wonderful world of waterscape in glaze oil.
Email: kmb@kathymarlenebailey.com or info@cgos.ca
Phone number: 902-962-3642
https://www.facebook.com/kathy.bailey.3323