Friday Night with Ernie Francis – March 16
(Submitted by Ingrid Mueller)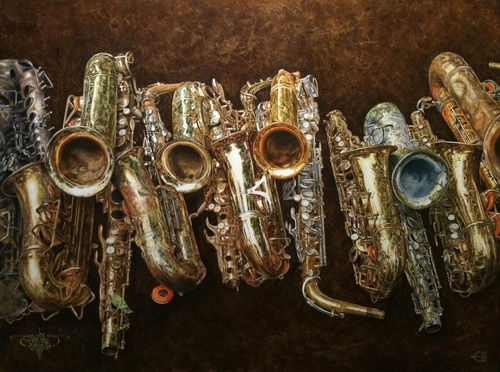 Ernie Francis is not only a talented artist but an eloquent speaker. Sharing his journey from his place of birth in Indonesia to his final destination, Canada, Ernie showed how truly eclectic his art expression is.
Working in a variety of mediums, his training in graphic design and having had a successful career as a graphic designer and illustrator, is very apparent in his use of calligraphy in his paintings and his attention to composition. His love of literature and poetry is also evident in his calligraphic paintings. Having said that, he suggests that although detail is important, artists should strive to keep the viewer interested. Use detail to the point where they still have to use imagination.  Otherwise, the artist is really just a technician.
While Ernie has produced wonderful work in watercolour and acrylic, the technique he demonstrated was one he discovered while investigating encaustic painting. While encaustic produces wonderful results, the method is somewhat toxic and requires special equipment and ventilation. In search of an alternative, Ernie discovered the genre of cold wax painting. Cold provides the artist with the ability to experiment with texture and the physicality of paint layers.
Cold Wax Painting is any type of painting that heavily utilizes Cold Wax Medium into oil colors. In its own way, Cold Wax Painting blurs the line between oil painting and encaustic painting. (ref: https://www.gamblincolors.com/cold-wax-painting/)
The best substrate to use is something rigid like a wooden panel, otherwise the wax may crack on a canvas surface. Ernie recommends that the maximum ratio of wax to paint is 50/50, but it depends upon the amount of transparency one desires. It is much like glazing, but the effect is a matt finish and almost velvety.  Ernie works his painting in layers which gives depth to the subject and provides interesting colour qualities that one cannot achieve by premixing the oil paints not to mention the interesting textual effects that can be achieved with wax.
His experimentation with this medium has resulted in two series of paintings that speak to the great results obtained only by using cold wax.
As a full-time artist, Ernie produces new work regularly, which can be viewed at https://www.facebook.com/ernie.francis