Lenni Workman – Friday Night Guest – March 25, 2022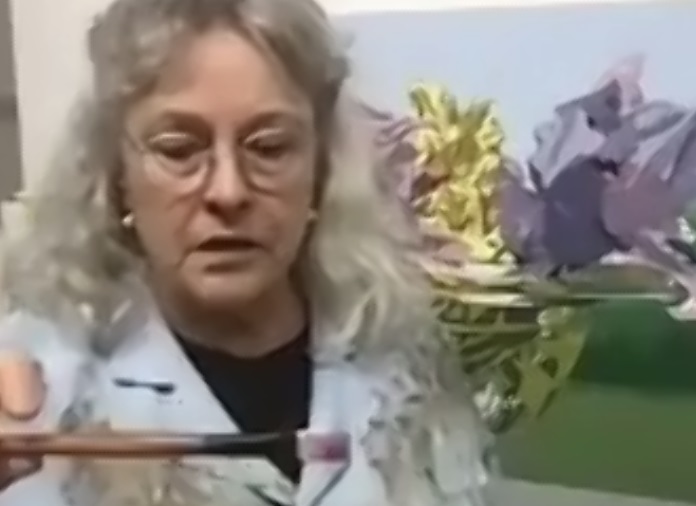 (Submitted by Mary Intven Wallace)
Lenni began our evening with a slide show of her large-scale watercolour and oil paintings while describing her work as a study of the transient nature of light in our fragile natural world. Scale is very important in her work. By enlarging a detail of nature, Lenni expresses her respect for, and connection to our natural environment. Her art is influenced by Canadian artist, Mary Pratt, who also created still life realist paintings from projected photographic images of domestic scenes.
After attending Queens University in 1970, Lenni studied at St Lawrence College in Kingston. On her organic farm near Cobourg, she grows the painting subjects she engages with. Growing organic food and sharing with her community at the local market provides her with satisfying summer work as well as inspiration for winter painting. Lenni uses her camera to capture fleeting moments of light dancing across her subject matter, focusing on light's ability to abstract, define and dramatize form and space. Her florals are direct visual translations of the flowers she grows in her garden.
In her demo, Lenni showed us how she chooses one part of her photographic image to focus on. She uses this as a colour and compositional reference for her painting. The enlargement of her small-scale visual will evolve into a large luminescent painting: Lenni projects the image onto her canvas, sketching in lines with a pencil, then adjusting with a brush. Next, values and colour are blocked into defined shapes, again with direct reference to her photographic research. At this point the under painting layer is manipulated to reflect details using 3 values of each colour (premixed on white palette paper). Using the photo reference consistently, Lenni then applies transparent layers that are close in value and saturation to the under painting. Her oil paints are mixed with a concoction of Gamblin Galkyd, Liquin & turpentine; she uses a different brush for each colour.
We were thrilled with this virtual visit to Lenni's studio where we were privileged with an intimate view of how her photos are transformed into beautiful large-scale paintings that honour her beloved natural world.
Learn more about Lenni Workman at: https://lenniworkman.ca/