Friday Night with Jamie MacLean – May 12, 2017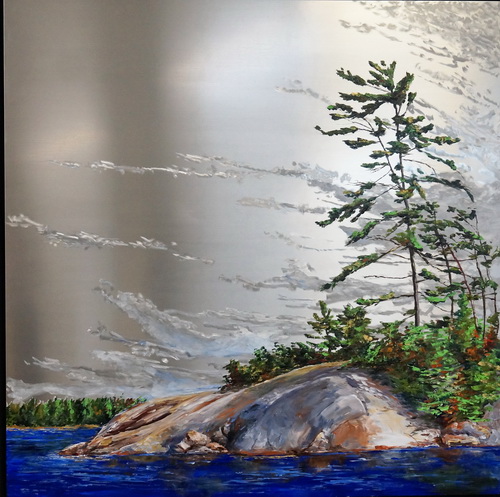 "If not now…. when?" A question asked of Jamie MacLean during a seminar, in the early part of this century, about launching new careers.  His answer was, "yes, why not now". Ever since, Jamie MacLean has been painting, learning, growing and selling his art, and he shared his journey with the DVAC Friday Night Club.
Although Jamie paints lovely landscapes mostly on canvas, inspired by scenery in Ontario cottage country, he has, for the past few years, also been painting on aluminum substrates.  It is a technique he has been perfecting, as he discovered that, especially in the smaller formats, customers are drawn to the sleekness and modernity the surface provides.  Not the typical landscape.
How do you make the paint stick?  He came well prepared to demonstrate how to prepare the surface to accept paint.  Although one can use oils, Jamie uses acrylics for this surface in appreciation of the quick dry time.
After planning your subject, and wiping the aluminum clean with varsol, one must rough the surface.  He used a dremel tool, but sand paper works as well.  Be sure to wear a dust mask.
He then applies a coat of clear gesso, allowing it to dry thoroughly before applying the paint.
The results are striking, and although this technique is not for everyone, it presented an option that may enhance some ideas.
When not painting, Jamie participates in about 15 shows a year and is an active member of the Artist's Network.
You may see more MacLean artwork at his website: